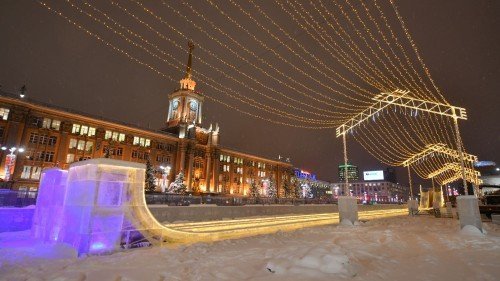 The ice town built on 1905 year square in the center of Yekaterinburg will be demolished in the next few days, the press service of the city administration reports.
"Despite the frosty weather, during the first decade of January alone 500 thousand people visited the town. The feedback from the citizens was positive, especially children liked the slides and the fortress. This year the spruce was alive - I think we will make it a new tradition", - the words of Mayor Alexei Orlov are cited in the message.
According to the mayor's office, after the dismantling the tree, sawn into pieces, will go to local schools, where at the lessons of the guys will make souvenirs from it, dedicated to the upcoming 300th anniversary of Ekaterinburg.
Ice structures will be dismantled for about a week. By the next weekend parking on the square in 1905 will be opened again.
Last New Year's holidays, in early January 2022, the ice town in Yekaterinburg was visited by about 600 thousand people.