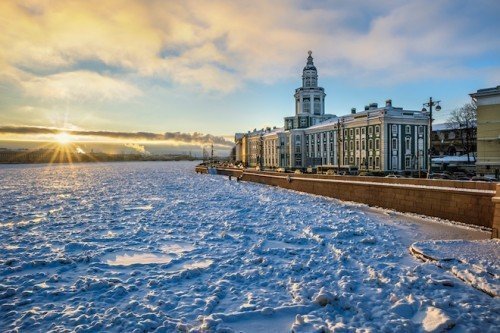 In St. Petersburg because of the abnormal heat now not only melts the ice - from the ground appeared the first sprouts of fresh greenery. Weather forecasters reassure: nature, of course, is capricious, but winter is in the middle, so there will be frosts. So how long will the thaw last and how will you survive the temperature drops? The correspondent of "Izvestia" Pavel Prolomov has found out everything.
In the first two weeks of the year St. Petersburg, as if in the fairy tale "Twelve Months", went from Christmas frosts to March rain. And in the near future, the January thaw does not intend to retreat.
Weather forecasters say the change from a North Atlantic cyclone to a southern one is to blame. It forms in the Mediterranean Sea area and rises through Eastern Europe to the Gulf of Finland.
"St. Petersburg and most parts of the Leningrad region fall into the warm sector of the cyclone and very high temperatures. I will say right away that night temperatures in St. Petersburg on the 19th - up to plus three degrees. Daytime temperatures up to plus five degrees", - said the chief weather forecaster of the Northern capital Alexander Kolesov.
Such temperatures are considered abnormal, but the extremes (maximum deviation from the norm) have not been covered yet. But there is another record. On Monday, the lowest atmospheric pressure in 20 years was recorded on January 16. Such jumps, of course, affect the well-being of weather-dependent people.
"A decrease or increase in atmospheric pressure puts a lot of pressure on the body system, throwing the body's homeostasis out of balance. People feel it in the form of headaches, in the form of joint pains. People with respiratory system disorders have bronchospasms and suffocation attacks," said cardiologist and internist Gulya Sharipova.
Doctors advise hypertensive patients to follow a diet and sleep at least six hours. And it is better to forget about considerable physical activity. Recommendations for hypotensive people are strong sweet black tea.
The abnormal weather "woke up" the velvet-legged flammulina. Popularly - winter openok.
"These are edible mushrooms. But, of course, those mushrooms that grow in the city are not recommended to eat. Simply because it is too dirty here," warned Lyudmila Kalinina, candidate of biological sciences, researcher at the Laboratory of Systematics and Geography of Mushrooms of the Komarov Botanical Institute.